How to start your GateKeeper Enterprise Trial
Exploring the GateKeeper Enterprise solution is made easy with a trial period designed specifically for trial users. This comprehensive guide provides step-by-step instructions on how to initiate your GateKeeper Enterprise Trial. By following this guide, you'll gain valuable insights into the solution's capabilities, evaluate its effectiveness in addressing your security needs, and make an informed decision for your organization.
1. Go to https://portal.gkchain.com and log in or create an account (How to create a GateKeeper Customer portal account).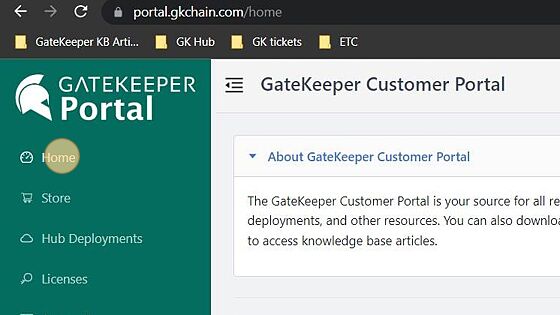 2. Click "Start GateKeeper Enterprise Trial" on your upper right side.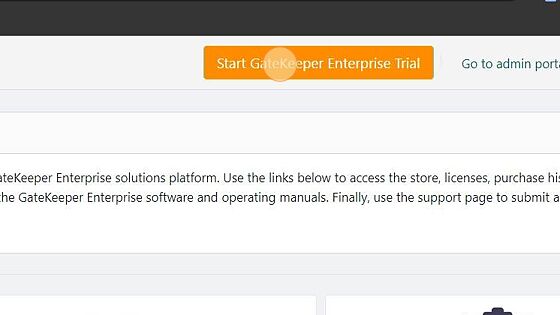 3. Click "Cloud GateKeeper Hub".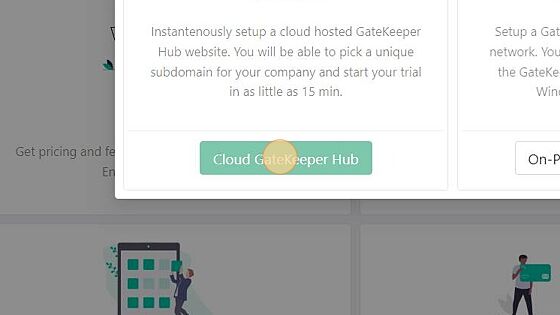 4. Click "Start".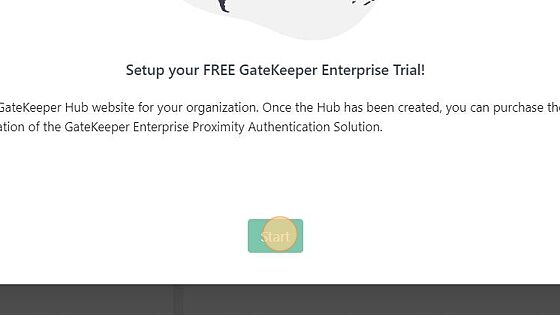 5. In the first field, you can customize your GateKeeper Hub website address. You can use your company's name here, then fill out the remaining fields.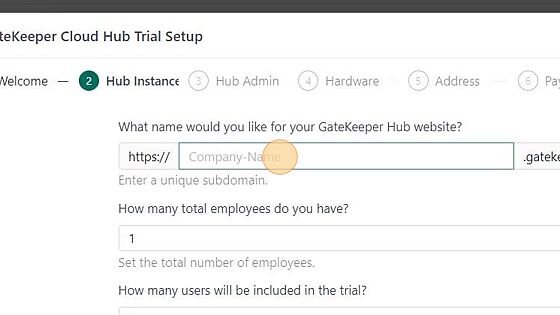 6. When you are done, click "Next: Administration".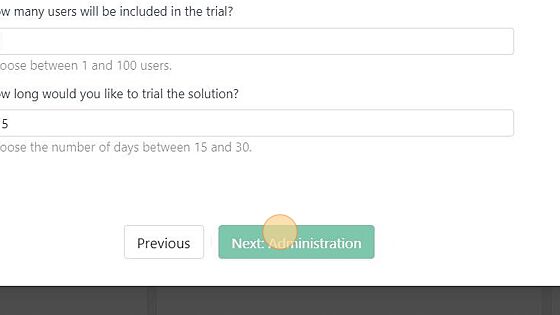 7. You will register one user as an admin. This credential will have control over your GateKeeper Hub.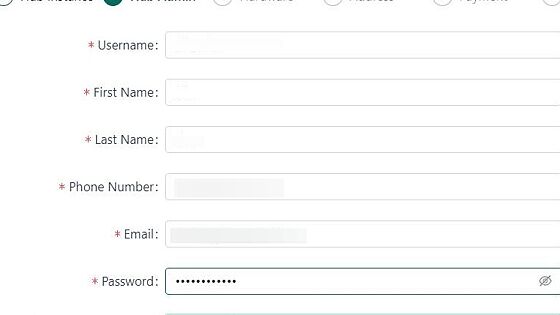 8. Click "Next: Hardware".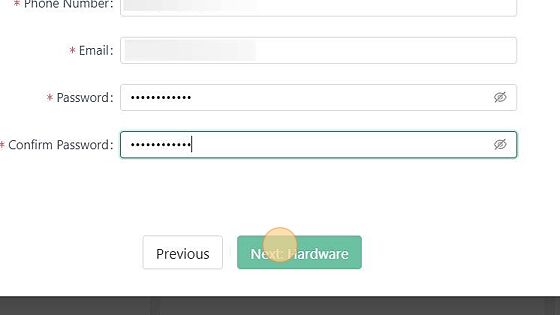 9. Enter the token number and USB sensor number. Then click "Next: Shipping Address".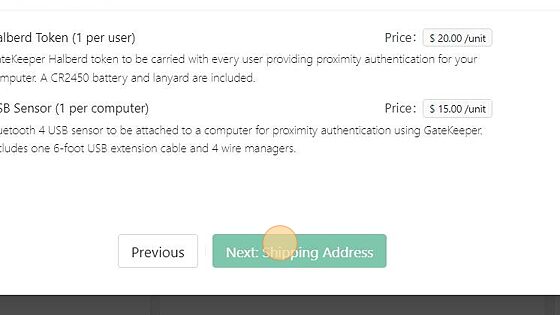 10. Enter your company's information; your GateKeeper Hardware will be sent to this address. Then click "Next: Payment".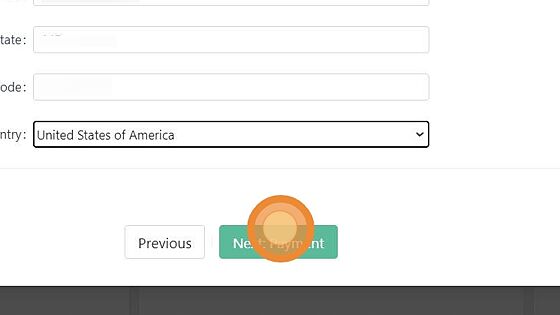 11. Enter the information of the credit card that will pay for the GateKeeper Hardware.
*Do not worry, your subtotal will be reviewed in the next screen.
*When your GateKeeper trial period is over, you will not be automatically charged for anything.
Click "Save Card".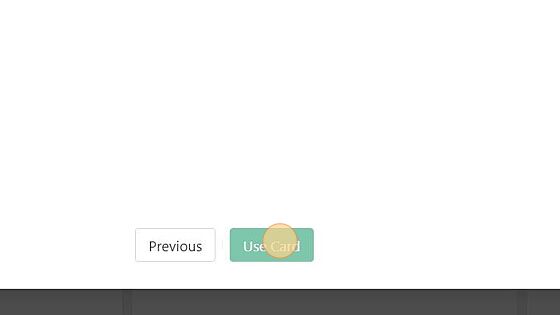 12. Review the details of your GateKeeper trial order. Then click "Order Confirmation".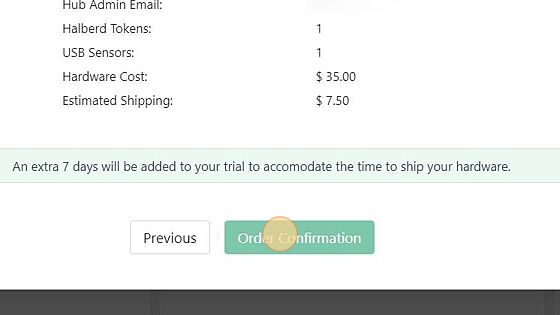 13. Final screen will create your company GateKeeper URL on the Cloud Server, finalize your admin login credentials, charge your credit card for your GateKeeper Hardware, and ship the Hardware to your company address. To complete this process click "Build my trial".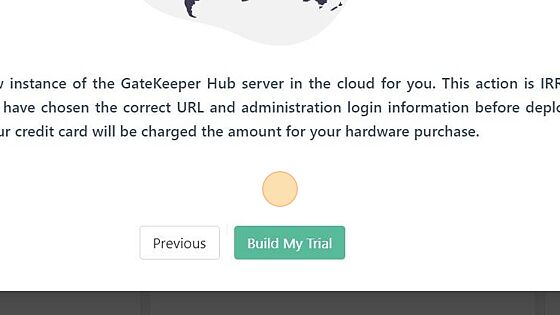 14. You are done! Your company's GateKeeper Hub instance is live!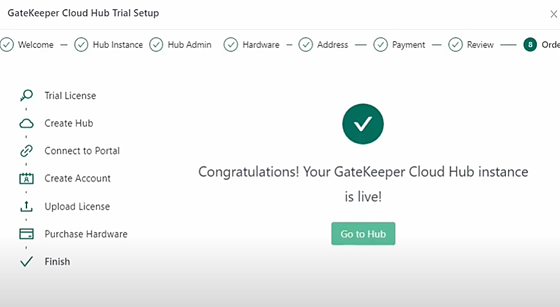 For any additional questions or concerns regarding faster 2FA, proximity settings, computer locking, password management, or compliance, please contact GateKeeper Enterprise support using the Support Ticket form on https://gkaccess.com/support/ or email support@gkaccess.com.