GateKeeper locks or unlocks the computer based on the signal strength and motion data sent by the tokens (Halberd or Trident app). To adjust range settings for locking and unlocking your PC, move the blue triangle markers on the GateKeeper Client Dashboard.
After installing the GateKeeper Client software, the default settings will be automatically applied.
The default unlock zone will be 70%, which is the unlock zone with the largest distance from the computer. If you increase this number, the closer you will need to bring your key to the computer in order to unlock it.
The default lock zone will be 25% and when the signal strength drops below 25% consistently, the GateKeeper will lock the PC. If you decrease the lock value, you will need to walk further away to lock the computer.
The minimum value for the lock zone is set to 15% while the unlock zone is set to 50%.
The maximum value for the lock zone is set to 70% while the unlock zone is set to 90%.
Please change the lock and unlock levels according to your needs and environment. Remember to carry the GateKeeper token outside of your pockets, and attach the USB receiver to the front of the computer or taped to the monitor for optimal performance. It is also recommended to use more than 1 USB receiver to maximize performance.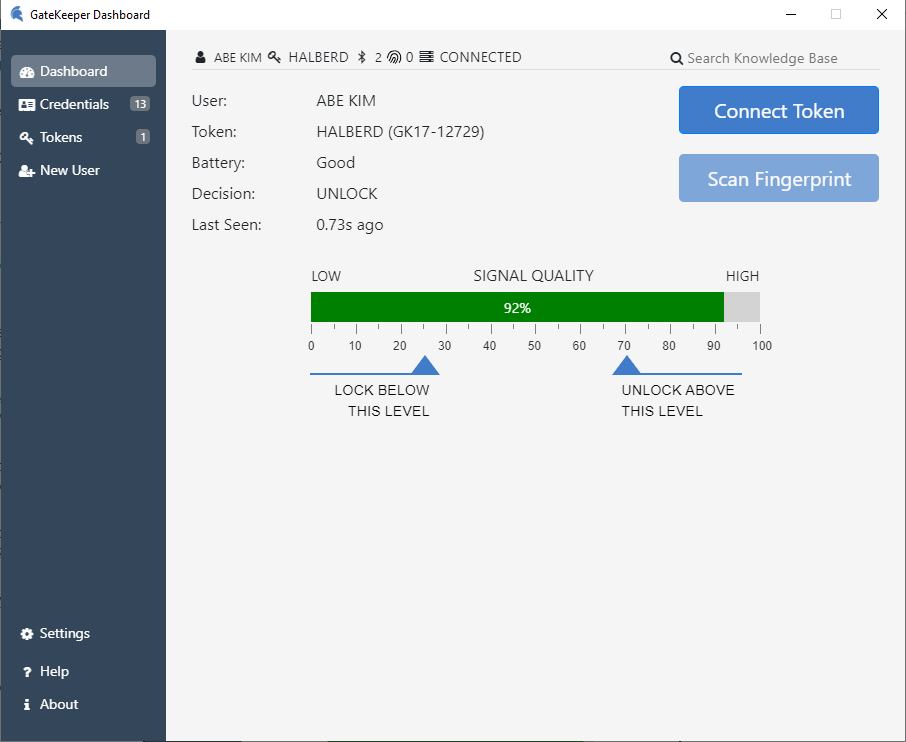 For any additional questions or concerns regarding proximity settings, computer locking, credential management, or compliance, please contact GateKeeper Enterprise support using the Support Ticket form on https://gkaccess.com/support/ or email support@gkaccess.com.
---------------
"Adjust range"
"Change GateKeeper range"
"Change distance to lock/unlock"